News

A glowing testimonial for KPX Solutions
24-09-2015
KPX Solutions provide a quick, quality refurbishment for the University Hospital of North Tees.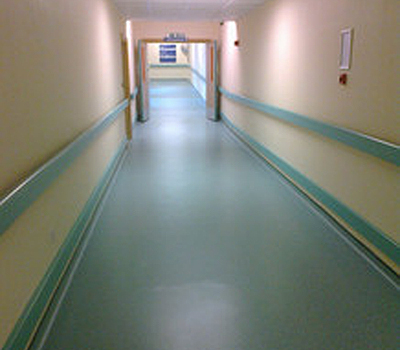 Many thousands of people walk and get transported through the University Hospital of North Tees every year and approximately 1700 square metres of corridors required renovating in August 2015. With emergency and planned surgical care, maternity services and a wide range of diagnostic services it's important that these arteries function properly.
A quick, quality refurbishment was therefore required. The hospital is dedicated to delivering excellent standards of care, so also required a low emission flooring installation. With such demands the flooring contractor KPX Solutions and UZIN ensured the installation was completed quickly, whilst meeting the highest of standards.
A WOLFF Turbo Stripper was first used to remove the old Marmoleum. After the removal of the Marmoleum the existing screed was removed by grinding it using the WOLFF Mambo grinder with the 3 head high extraction vacuum unit to ensure a dust free working environment. Once the subfloor had been grinded the UZIN system was installed. A combination of UZIN PE 414 and UZIN PE 280 were first used to act as a DPM. Then UZIN NC172 rapid drying smoothing compound and UZIN RR 201 renovation fleece were used to reinforce the strength of the new screed and subfloor. UZIN KE 2000 S, a low VOC adhesive, was then used to install the vinyl floor covering.
The job was exceptionally well finished resulting in a sound and extremely durable floor which will stand up to the rigorous demands placed upon it. Design and development manager Steve Taylor said: "This was a very complicated project to carry out given the very busy nature of the corridors, which, even at night, were never quiet. We're very pleased with the project and the finish which is improving the environment for patients, visitors and staff."